The furor over the decision of the state of Texas to prohibit the issuing of license plates for the Sons of Confederate Veterans (the so-called "Confederate flag license plate"), combined with Veterans Day observance, has given me pause to think.
Not allowed for a Confederate flag. Okay for Old Glory.
Isn't it odd that people who mm-mm-mm over the trivialization of the Confederate flag (see HERE, HERE and HERE) virtually ignore the trivialization of the U.S. flag -- and it a flag of sovereignty -- like the examples at the end of this commentary?
Why do you suppose that is? Well, it's not hard to figure out. The purpose of criticizing trivialization of the Confederate flags is, quite simply, demonization -- and the people who do it absolutely LUST after demonizing Confederate heritage advocates in specific, and white Southerners in general. They have NO desire whatever to demonize U.S. Americans, who are no less guilty of the same things -- and sometimes worse things.
F'rinstance, Corey Meyer posts repeatedly about how the SCV doesn't properly honor the Confederate Flag but makes a LOT of illogical, off-the-wall ass-umptions in order to do so. HERE, he writes, "I see the SCV have place the world's largest confederate rag along the interstate down in Florida, and I wonder if this was really about heritage or not? When the SCV placed this flag here do you think they had the following two images in mind as well? For the Neo-Confederates to hold the rebel rag so dear to their heart, I must say that, well no pun intended, to put the rebel rag symbol on a pair of testicles takes balls!!"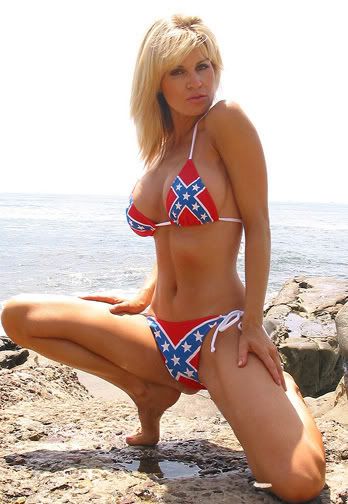 ...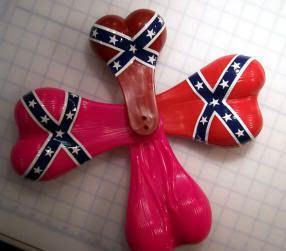 Pardon me for pointing it out, but it's a stupid question. Why would they have these two images in mind, just because you do? Yes, Corey YOU are the one who has these two images in mind -- that's obvious by your inclusion of them on your blog -- but because YOU do, don't imagine every one else does.
Now, a quick question for YOU. When you put that picture with the big-arse American flag front and center on your blog, did you have the following two images in mind?


...
Besides, what has putting a Confederate flag motif on a pair of plastic truck testicles got to do with "neo-Confederates"? Are you implying that neoConfederates did this? Where is your proof? Just tell us WHO did it, and how you know. Otherwise, you owe a lot of people an apology -- though I'm sure hell will freeze over first.
Look, when you and Kevin Levin and Brooks Simpson and Andy Hall and all your myrmidons take on the responsibility for policing the trivialization and trashing of the U.S. Flag, THEN you might have a case for holding the SCV, or Southern Heritage advocates, responsible for policing the trivialization and trashing of the Confederate flag. Until you do, you are outting yourselves as hypocrites, liars and demonizers ... not to mention truly bad examples of -- and unfortunate excuses for -- Americans...
Dear Readers, when you scroll through the images below, keep in mind these words from the U.S. Code. (The "flag" referenced is, of course, the flag of the United States... Old Glory ... the Stars and Stripes....)
TITLE 4 - FLAG AND SEAL, SEAT OF GOVERNMENT, AND THE STATES
CHAPTER 1 - THE FLAG

The flag should never be used as wearing apparel, bedding, or drapery. It should never be festooned, drawn back, nor up, in folds, but always allowed to fall free.

The flag should never have placed upon it, nor on any part of it, nor attached to it any mark, insignia, letter, word, figure, design, picture, or drawing of any nature.

The flag should never be used as a receptacle for receiving, holding, carrying, or delivering anything.

The flag should never be used for advertising purposes in any manner whatsoever. It should not be embroidered on such articles as cushions or handkerchiefs and the like, printed or otherwise impressed on paper napkins or boxes or anything that is designed for temporary use and discard. Advertising signs should not be fastened to a staff or halyard from which the flag is flown.

No part of the flag should ever be used as a costume or athletic uniform. However, a flag patch may be affixed to the uniform of military personnel, firemen, policemen, and members of patriotic organizations.

The flag represents a living country and is itself considered a living thing. Therefore, the lapel flag pin being a replica, should be worn on the left lapel near the heart.
Are we to assume, Corey, that the SUV or any other patriotic Americans have the stuff below in mind when they run a U.S. flag up a pole somewhere?


...
Reckon the patriotic pair above will need one of these before the night's over?
Such honor to Old Glory!
...
At least it's colorful!
Hey! A flag you can kick around, Corey...
Might wanna wear one of these while your doing it. Website sez, "Great for 4th of July parades and patriotic events." (Like presidential candidate debates, maybe?)


How about Flag paper plates, so you can smear Old Glory with food goo, and then toss it in the nearest dumpster?
Just what every red-blooded, pro-American, anti-Confederate blogger needs to be truly patriotic! An American flag doo rag!


Ooooh, gonna need a super gonzo Pledge Fabric Sweeper For Pet Hair to keep Fido's American Flag Pet Bed up to U.S. Code standards!
Oops, Corey! Call Christina quick -- tell her the U.S. Code sez No carrying things in flags!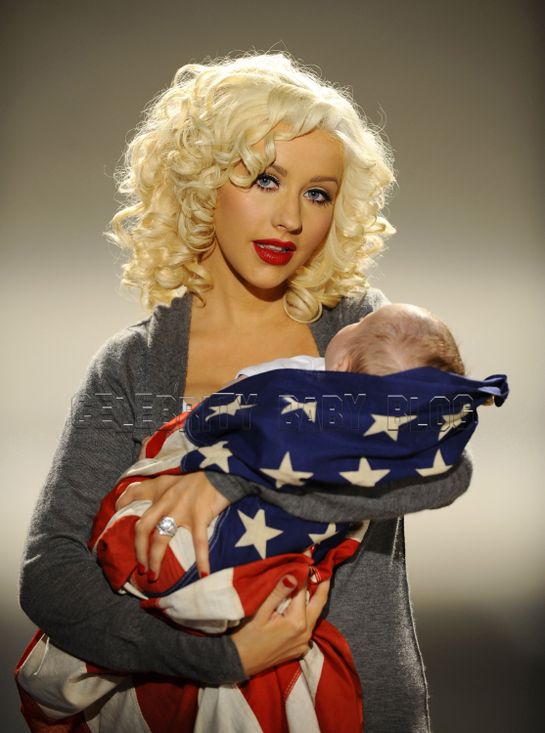 Aw, how cute! American flag-motif diapers for little American Patriots behinds... Reckon Christina stocked up on these lofty symbols of American Flag respect?
Reckon our blogger friends have one of these in their blog offices?

Wanna WEAR the flag? U.S. Code is easy to ignore, when flag clothes are THIS goodlookin', huh, antiConfederate blogger fellers?
Love them "Patriotic polar fleece pants", don'chu?
More patriotic American flag junk that critics of the Confederate flag will surely dig, here: American Flag Wall of Shame

Gentlemen, methinks you need to get your own house in order before you start criticizing others'. Remember ... pots and kettles, motes and beams, and all that.